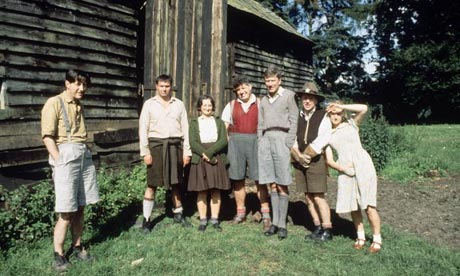 I was thinking about this old tv play (available entirely on youtube, hooray) in connection with two other old French films about childhood that I recently saw, Naked Childhood and My Little Loves. As much as they do their best to deromanticize childhood, this one may have them beat, and not just because adults are playing the children. The French movies all have alienation in one way or another, but there's not a lot of that here: these are younger kids before the age of introspection. And what a terrible age it is. In the absence of the cuteness of little kids (the actors are mostly rough-looking except for Helen Mirren, who looks somewhat gangly but mostly looks like Helen Mirren), what shows through?
First there is fear. The boys are adventure-mag and war-informed, but they have yet to grasp the size of the world and so they are quite scared that the war is very close to them and very real. When they aren't playing little war games among themselves, they are quite terrified that they are all going to die at German hands, even in a remote forest in England. Many of their fathers are away and some are missing, and the children switch back between having no sense of the reality of it and being frightened by the Germans as bogeymen, the sort of monsters you're repeatedly told aren't real, except these are. That wrenching movement between the serious and the frivolous is what stays, and lord knows it's a good thing that kids have it, because the bare fear looks horrific.
They do have one other positive mechanism, which is camaraderie. The boys and girls fight with each other, but when there is a threat, even an imagined one, the kids are suddenly all in it together, and they know that they are the protagonists and the evil Germans are the bad guys, so at least they're all on the same side. This even extends, to a point, to the miserable outcast of the group, the boy called Donald Duck who is mercilessly teased and demeaned. When the war games are over, the rest of the kids indulge in some rampant cruelty–the third main motif–against Donald that ends up going very badly for him, and too late, the others realize that they crossed the line and they feel bad. Though they mostly make excuses for themselves, they do acknowledge a certain undebatable humanity on his part. It's small consolation for Donald, but it does draw a certain line.
Poor Donald, though, since up until that point he has been an outcast and the only one really excluded from any compassion from the others. He blubbers and he is really, truly frightened, and so he is deprived of the any of the consolation of camaraderie, and he gets stuck in the fear. It's not just loneliness, though the lack of support he feels from anyone else is palpably agonizing, but it's also that by lacking that communal outlet to play together and have adventures, he is locked in one of the most miserable places that a person can be, before a child learns that they aren't always going to be so completely helpless and alone. It's wretched to watch.