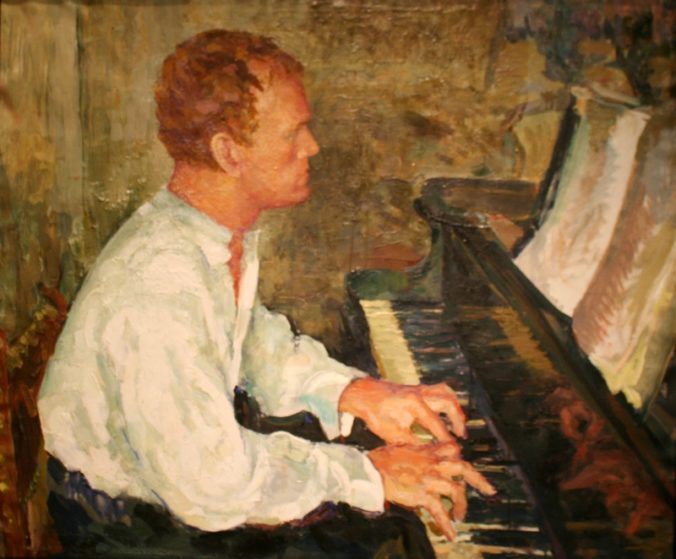 A Beginner's Guide to Sviatoslav Richter
I am an omnivorous creature and I want a lot of things. It is not because I am ambitious or try to do a great many things simultaneously. I simply love very many things and the desire to bring to the listeners all that I love never leaves me.

Sviatoslav Richter
Music is where I go to escape from words, but sometimes evangelism has its place, and Sviatoslav Richter, despite his fame, merits more. He is a model for total and uncompromising devotion to one's art and the incommensurable rewards possible from such. I will let two other estimable pianists convey the force of his performances and their significance.
I think I can safely claim to speak for many Hungarian musicians, when I say that from our childhood on, for decades, Richter's concerts were the greatest musical experience we had. We were fortunate that he was happy to play in Hungary. In addition to his indescribable personal aura, his unique physical and intellectual characteristics, the simplicity, thoughtfulness and honesty of his approach supplied us for years with the strength and the desire to study and make music.

He did not play the works, but – like the greatest of actors – lived them. I don't know if it is possible to explain to anybody the extraordinary phenomenon his personality and playing created. We can only hope that this can also be sensed through the recordings, for Richter is one of the few performers whose individuality is clearly manifest on a recording, regardless of its quality, and at each subsequent listening his playing gives a greater, more staggering experience than we are able to remember.
After what we lived through during the war, the extreme strain of efforts and nerves, excruciating torments and tortures of people … we wanted to have the same in art – frenzy, fanaticism, a tornado and earthquake… And there comes an artist against an emotional background like that – a frenzied and ultimately strong one like a volcanic eruption or tornado, who sees the form in music as an objective, who discards minor nuances that impede the form. He made the audience listen to music without letting them catch their breath. We found the one we had been waiting for – it was Sviatoslav Richter.
Sviatoslav Richter's discography is the messiest I have ever encountered, easily putting Sun Ra's to shame. Richter's huge repertoire, his thousands of concerts, and his fragmented and irregular programming have generated an explosion of issues in highly variable sound by highly variable labels which usually fall out of print quickly. Below is my attempt to single out a comparatively small set of representative, high-quality performances in acceptable-or-greater sound that to me represent Richter at his greatest. Except for the rarities at the bottom, they are readily available at the time I write this, in CD or digital form. I consider all the performances below to range from superb to beyond belief, enough that the superlatives are often interchangeable; words won't convey the virtues of these performances. Lesser recordings are lesser only by Richter's standards.
Some wag once said that as you go into the past, the performance quality of Richter recordings approaches infinity while the sound quality approaches zero. It's a caricature, but the bottom line is that the average recording quality during Richter's greatest years was mediocre at best, and even with random distribution, half of his greatest performances will be worse than that. Richter himself said sound quality didn't matter as long as you could hear the performance, and indeed, those with ears… Still, I have tried to avoid blatantly dodgy and unlistenable releases when possible. I have tried to avoid recordings with obtrusively poor sound quality when possible–the one exception is for Chopin's scherzos, in a truly possessed performance.
This page could not have been possible without the discographical labor of Falk Schwartz, Lawrence Gray and all those at Pianist Discography, John Fowler, and many others. The denizens of rec.classical.music.recordings have provided many tips over the years.
---
BEETHOVEN
---
---
---
---
---
---
CHOPIN
---
---
---
---
SCHUBERT
---
---
---
---
SCHUMANN
---
---
---
---
LISZT
---
---
---
BACH
---
---
---
---
EVERYBODY ELSE
---
---
---
---
---
---
---
---
BOXES
---
Technology has caused the price of box sets to come way down, so the danger is less to your wallet than to your listening backlog. (This is why I recommend starting with the single discs above.) The collections below all easily best the more prominent major label boxes.
---
---
---
---
---
---
---
---
OUT OF PRINT
---
---
---
---
---