What an awesome disaster of a movie. Panned at Cannes, left for dead by Sony, eventually raking in $300K on an $18 million budget and forcing a promise from Richard Kelly that he will be more commercial in the future, I now say that it's the major American movie of 2007 that I enjoyed the most, far more than limp critic-fodder There Will Be Blood and No Country for Old Men. It certainly isn't a good movie, though there are plenty of good bits in it, but the movie, at least partly unintentionally, has been constructed in such a way as to make such evaluations meaningless. Southland Tales will never be ridiculed and celebrated the way Showgirls or Valley of the Dolls or Manos: The Hands of Fate or Battlefield: Earth are. It doesn't provide enough reference points. James Wood, in one of his bon mots, said of Kazuo Ishiguro's The Unconsoled, "It invents its own category of badness." Wood was wrong, for The Unconsoled is just a mediocre symbolist text (see Alasdair Gray's Lanark for a far more brilliant effort in the same vein). But Southland Tales comes as close to that description as any film in recent memory, and where it is in its own category, there is no comparable "good" to be had next to the bad. Its idiosyncratic overambition lies alongside O Lucky Man! and its acknowledged antecedent, Kiss Me Deadly. I don't know that it is as seminal as the latter film, which for me is one of the greatest American films of its era, but as with Kiss Me Deadly, it won't be possible to tell until we are further from the present. It's that sort of a zeitgeist movie; maybe it'll look as awful as Dennis Hopper's The Last Movie or Jodorowski's films, but I hope not. I got a real kick out of it.
Let's start with the logo.
Does the oddly-colored shape under the title look familiar? I was pleased with myself for recognizing it. It's a US electoral map from 2004, skewed by congressional district so that each district's size is proportional to its population, and color coded red-to-blue to represent Republican-to-Democratic dominance. It's ugly, oversaturated, politically allusive, and obscure all at the same time, and it's a good synecdoche for the film.
The film fails in making any coherent political statement, because you can't make any sort of political statement in the midst of such chaos. The plot, such as it is, has to do with The Rock playing an amnesiac actor married to the daughter of the Bush-a-like Republican presidential candidate (this film takes place in 2008; the Democratic ticket is Clinton-Lieberman). His name is Boxer Santaros, but he'll come to be known as Jericho Cane, the lead character in a screenplay he has written (or has he???) about the apocalypse. Also collaborating on the screenplay is Sarah Michelle Gellar's Krysta Now, a porn star/talk show host who may or may not have Marxist revolutionary tendencies. (It may be possible to figure out the actual affiliations of many of the characters, but, like most of the plot elements, it is largely irrelevant.) What glimpses we have of this screenplay reveals that it is pretty much the sort of screenplay The Rock would have written: a macho action hero killing people, spouting banal dialogue, and chugging Bud Light. Here's page 1: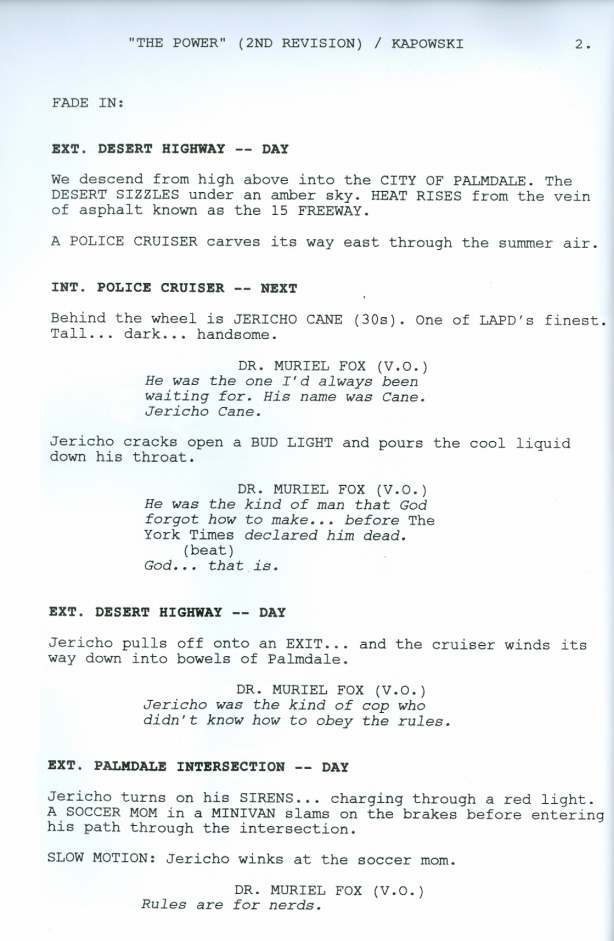 (If you don't find that funny, this movie might be extremely painful for you.) Anyway, through a combination of subversive revolutionary action, plain accident, and assorted other Philip K. Dick-ian causes, the screenplay is being acted out in reality by people who don't even know of it, as well as observed by all the other characters and by the actors themselves. Since the script is about the apocalypse, things get very strange in a hurry. Some neo-Marxists attempt to fake a shooting to turn the population of California against the government's draconian anti-terror laws, instituted after two nuclear bombs exploded in Texas. Justin Timberlake plays a mutilated Iraq veteran who spends his days spying on (and occasionally killing) people from offshore through a giant rifle sight. He and several other characters have had megadoses of the mysterious Fluid Karma, a substance that causes telepathy, shared dreams, the mixture of fantasy and reality, and so on and so forth, like Chew-Z in Dick's Three Stigmata of Palmer Eldritch. It's also a clean fuel that will save the world, according to a bunch of German scientists led by Wallace Shawn. And at ground zero of this mess are a bunch of morons getting sucked into their own screenplay in the middle of Los Angeles, already shot, with the exception of one critical scene, to be apocalyptically unreal. I could go on and on, but you get the idea.
As these stars act out their wretched screenplay, it's obvious that at least some of the badness of the acting, dialogue, and plot is intentional. But Kelly makes it impossible to separate the intentional from the unintentional, because the crap script mixes with "reality" to the point that they are inseparable, and none of the "real" characters are any smarter than their in-script standins. This is obvious early on, from the moment Krysta Now says "Apparently, the future is much more futuristic then scientists thought," but also evident from the sheer lack of any empathetic characters. And I haven't even mentioned the Justin Timberlake video embedded in the movie, done up as a tribute to The Big Lebowski. The movie is impressive in its self-referential textuality, as bad actors play bad actors writing bad screenplays with bad characters that they then become the bad stars of. (The Rock does a magnificent job of acting like he has no idea what's going on.) Most of the cast are famous for anything but dramatic acting and can only be recognized as themselves, not as characters within a movie. This movie oozes Verfremdungseffekt.
If nothing else, these factors ensure Southland Tales a place in post-structuralist theory for years to come, a bitterly appropriate result. Still, that's not to deny the disorienting effect the movie has in providing no reference point whatsoever to what would be called "real life." It's spectacle all the way down. But what spectacle! Kelly has given himself over to the pop culture overload and distilled it more densely, and authentically, than anyone since John Oswald. (The opening pastiche of news channel graphics, logos, and crawls is dead-on, the best anyone has done since Chris Morris's Brass Eye.) And to Kelly's credit, he never loses his grip, never sacrifices the miasma to anything that could dare be called "art," which is why Cannes hated him and loved Tarantino. Even if Kelly was trying to elevate (quite literally, at points) his material, he never does.
So let's go back to Kiss Me Deadly, which appears twice in the film and is clearly a major influence on Kelly. Aldrich's film is a joke at everyone's expense, a contemptuous reading of a Mike Hammer novel portraying Hammer as a dull-witted thug incapable of understanding the true stakes of what's around him. Even the entire genre of detective novels is held up for ridicule when the McGuffin at the center of the story turns out to be anything but irrelevant. The acting ranges from lumpen to histrionic and never matches the unstable material. But unlike Southland Tales, it comes together to damn every bit of its source material and America with it. In Southland Tales, things are inverted: the fools understand and we do not, because the fools are generating their own story, and we–and I include director Kelly in that–are getting caught in it.